Bottle Your Kombucha the Easy Way With an Auto-Siphon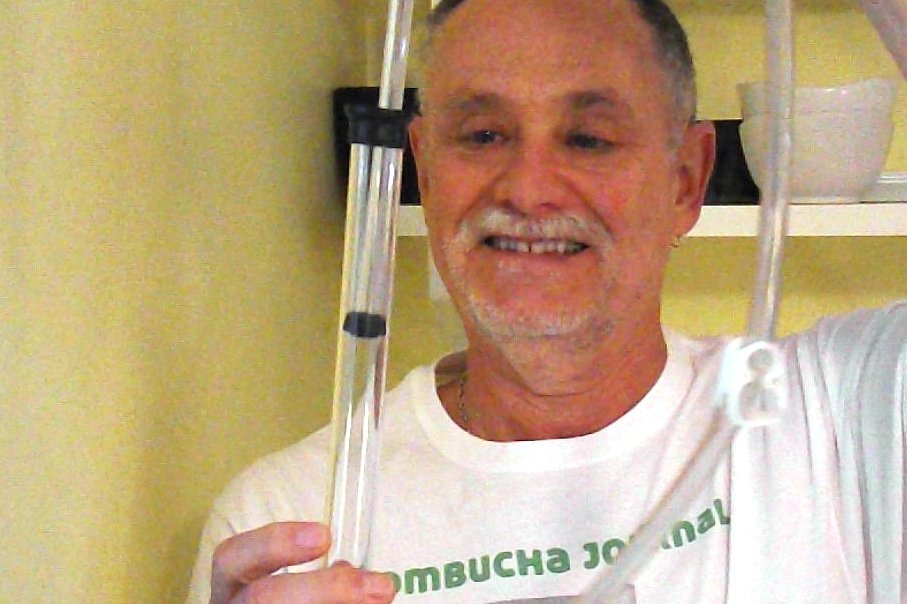 Keep us brewing and blogging! We earn a small commission from purchases made through links on this site without increasing your cost. Thank you for your support.
Once your batch of kombucha is finished brewing, it is time to transfer your brew to bottles for flavoring and storing.
How you accomplish this task depends in part on the size of your brewing vessel and the type of bottles you are using. If you are using a small sized brewer, you can pour the brewed kombucha (after removing the SCOBY) into the bottles through a funnel. In practice, it is easier to first pour the brew into a pitcher before bottling it.
If you are using bottles with very small openings, such as swing-top bottles, you definitely need a funnel with a small opening in the bottom and a large measuring cup is probably the easiest vessel to pour the kombucha  brew from into the bottles.
If your brewing vessel is larger than one gallon, it is very difficult to pour the kombucha into bottles, even using a funnel. If the bottles have smaller openings, it is even more difficult.
So, how do you easily transfer the brewed kombucha into bottles?
A siphon is the perfect tool for that job. A siphon is simply a rigid plastic tube with a flexible plastic tube on one end. The rigid part is pushed down into the fermentation vessel and the brew flows through the flexible part into the bottles or another container.
The two types of siphons
There are two types of siphons, the old style, which works, but is difficult to get the flow started, and a newer type called an auto- siphon. What makes an auto-siphon the best choice is that it includes a movable plunger part that starts the kombucha flowing with a simple push-pull operation. Auto-siphons are inexpensive and come apart so that they are easy to keep clean too.
The auto-siphon makes it easy
Our first siphon was the old type and we found it made the weekly process of transferring our kombucha from our 2.5 gallon fermenter into a pitcher to pour into our bottles, cumbersome and inefficient.
Once we switched to the auto-siphon, the process became simple and quick. Now we always recommend this clever and useful device to home brewers.
Be sure to purchase an auto-siphon that is the correct length for your brewing container. The tube should reach the bottom and protrude from the top by at least a few inches.
These highly rated auto siphon choices will make kombucha transfers easy!
Image
Title
Price
Prime
Buy

Top

Auto-Siphon, For Beer/Wine Bucket Home Brewing, with 4.3 Feet of 5/16 Tubing and Clamp, Auto-siphon Mini

Prime

Eligible

Buy Now

Top

Fermtech FastRack Auto-Siphon Mini with 6 Feet of Tubing and Clamp, clear, 1 piece

Prime

Eligible

Buy Now

Top

Fermtech Bottling Auto Siphon, Clear, 15" Long Mini Auto-Siphon for 1 Gallon Jugs with 3 feet Tubing.

Prime

Eligible

Buy Now

Top

Fermtech Auto-Siphon Large 1/2" with 6.5 Feet of 7/16" Tubing and Clamp by UbrewUsa

Prime

Buy Now
Product prices and availability are accurate as of the date/time indicated and are subject to change. Any price and availability information displayed on [relevant Amazon Site(s), as applicable] at the time of purchase will apply to the purchase of this product.
Prices pulled from the Amazon Product Advertising API on:
Have you tried an auto-siphon? Please leave your comment below.
Improve your home kombucha brewing.
Achieve consistent, accurate results.