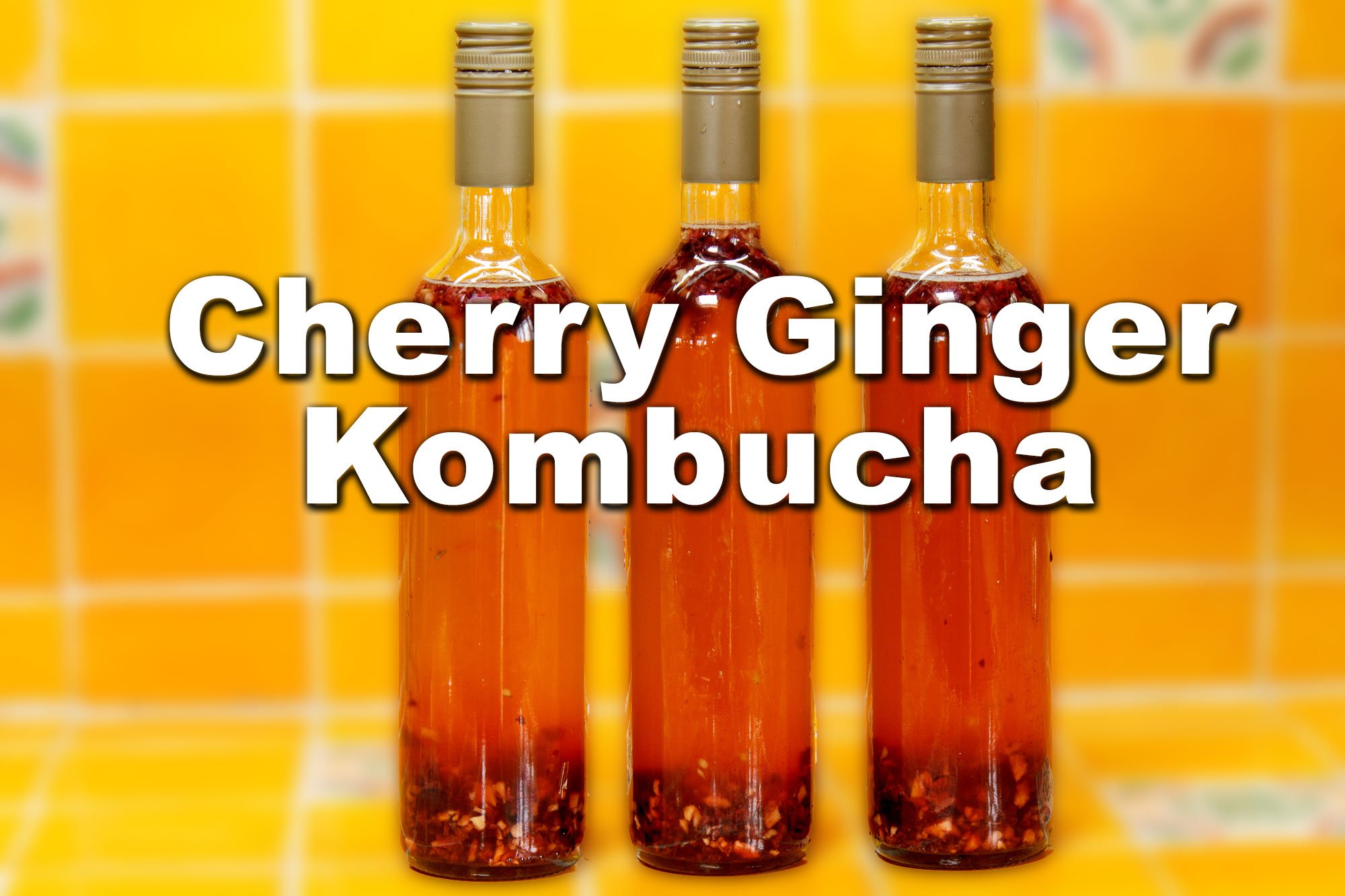 Keep us brewing and blogging! We earn a small commission from purchases made through links on this site without increasing your cost. Thank you for your support.
We generally like the flavor combination of a sweet fruit with the snap of ginger. This recipe is no exception. The sweet cherries provide a delicious fruit flavor and the ginger adds some spiciness. Using raw ginger root is also a great way to insure that your kombucha is fizzy. You can use ginger root in five different forms.
For this recipe we used finely minced fresh ginger root that we peeled first. Mincing ginger provides lots of surface area for the raw kombucha to interact with, so you get lots of flavor. Mincing it also makes it easy to get into the neck of the bottle, which was particularly important in this case.
We made the cherry ginger kombucha while we were traveling, staying in a small town in Mexico, and we did not have much of a selection of bottles to bottle our kombucha in. We ended up using screw top wine bottles. They weren't ideal, but that is all we could find.
To learn about which bottles we prefer to use to bottle our kombucha read Best Bottles for Flavoring and Storing Kombucha.
We used fresh cherries that we purchased at the grocery store. We would normally prefer to use organic fruit, but that was not an option. We washed the cherries well, and as we do with all our produce in Mexico, disinfected them with an iodine solution that can be found in all grocery stores throughout Mexico.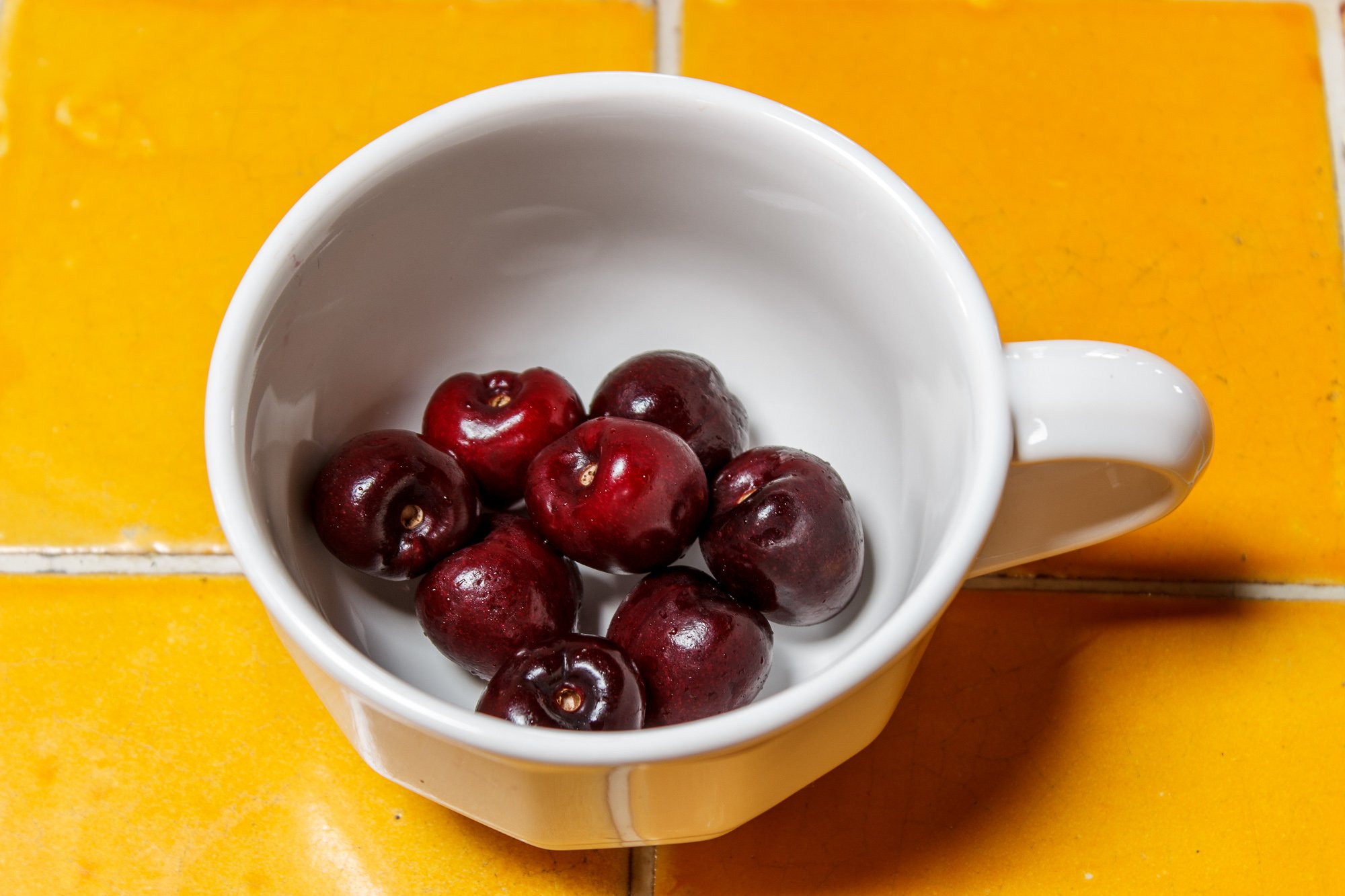 We minced the cherries too, for the same reason, to provide lots of surface area for good flavor and to make it easier to get the fruit inside the narrow neck of the wine bottles.
This cherry ginger kombucha recipe starts with a freshly brewed batch of kombucha made from a combination of black and green tea. Like all our flavoring recipes, we used raw kombucha that was brewed to have only a slight amount of sweetness. You can find the recipe for brewing a batch of raw kombucha here.
Print Recipe
Cherry Ginger Kombucha
Sweet cherries impart a nice fruit flavor and the ginger adds some nice snap and spiciness.
Ingredients
2

tbsp

fresh ginger root

peeled and minced

2

tbsp

fresh cherries

minced
Instructions
Multiply the ingredient quantities by the number of 16 ounce bottles of brewed kombucha you want to make.

Peel fresh ginger root and mince in a food processor or with a knife.

Pit and then mince fresh cherries in a food processor or with a knife.

Add minced cherries and ginger to each 16 ounce bottle.

Store the bottles at room temperature for 2 days and then check the fizziness of the brew by loosening the cap to see if it is becoming pressurized by the fermentation.

Continue to check the bottles each day until there is a lot of pressure and the kombucha is nice and fizzy.

Move the bottles carefully to the refrigerator to slow the fermentation process.
Related:
Our choice of the best budget kombucha brewing jar
Additional sources for cherry kombucha recipes.
This recipe, from The Roasted Root also makes use of sweet berries and ginger. It is meant to mimic a very popular commercial kombucha, GTs Gingerberry.
Whenever I'm between batches of kombucha and choose to buy it from the store, I always gravitate towards GT's Gingerberry. I had a feeling you might be a Gingerberry junkie too, so for my most recent batch of home brew, I copy catted GT's. I simply added pure blueberry juice (you can also do pomegranate or a blueberry-pomegranate hybrid!), frozen blueberries, and fresh grated ginger to my homemade kombucha prior to bottling it for secondary fermentation.
Click here to view original web page at www.theroastedroot.net
Here is another cherry flavored kombucha recipe from Cooking Light. This one is for Cherry Basil Kombucha. The author recommends using cherry juice and fresh basil leaves. However there is no reason why you couldn't use fresh minced cherries instead of the juice. If you do opt for juice, make sure you buy one that is pure cherry juice, without additional additives or sugar.
Ingredients 3 1/2 quarts water 1 cup granulated sugar 6 bags black tea 2 bags green tea 1 cup starter tea (prepared Kombucha) 1 SCOBY 1 gallon jar 5 (16-ounce) glass airtight bottles 1 clean plastic bottle 6 tablespoons cherry juice 12 basil leaves How to Make It In […]
Click here to view original web page at www.cookinglight.com
Have you tried this cherry ginger kombucha recipe? Please help others by commenting below!